Hey there, kind-hearted folks! Are you ready to spread some positivity and warmth with our amazing "Human-Kind be both" t-shirt? This stylish tee features a simple yet powerful reminder to be both human and kind, promoting compassion and understanding in a world that could always use more of both.
Our updated unisex "Human-Kind be both" t-shirt is designed to fit like a well-loved favorite, ensuring you'll feel comfortable and cozy every time you wear it. Made from super soft cotton and boasting excellent quality print, you're sure to fall in love with this tee over and over again.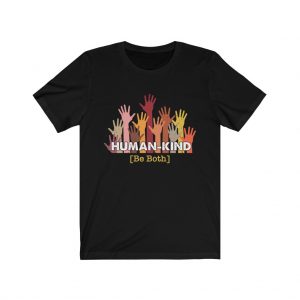 This t-shirt offers a retail fit that's perfect for everyday wear, whether you're out and about, spending time with friends, or just enjoying some downtime at home. Made from 100% soft cotton (though fiber content may vary for different colors), our "Human-Kind be both" t-shirt has a light fabric weight of 4.2 oz/yd² (142 g/m²) for ultimate comfort.
We know that finding the right size can sometimes be a challenge, but our "Human-Kind be both" t-shirt runs true to size, making it easy to find the perfect fit for you. Plus, we've included a tear-away label to ensure maximum comfort and eliminate those annoying, scratchy tags.
So why not treat yourself or someone you care about to this wonderful "Human-Kind be both" t-shirt? It's a fantastic way to promote kindness, compassion, and understanding, all while staying comfortable and stylish. With this inspiring tee, you'll be the talk of the town, spreading positive vibes and encouraging others to be both human and kind, too!