🌼 Get Back to the 70's with Our "Stay Groovy" Tie-Dye T-Shirt! 🌼
Ride a wave of nostalgia with our stunning "Stay Groovy" custom tie-dye tee! Experience a spectacular journey back to the electrifying era of peace, love, and impeccable style with this 100% pre-shrunk cotton gem. Emblazoned with a vibrant image of a Boho Hippie 70's van and the effortlessly cool "Stay Groovy" motto, it's more than a piece of clothing – it's a statement, a vibe, an ethos.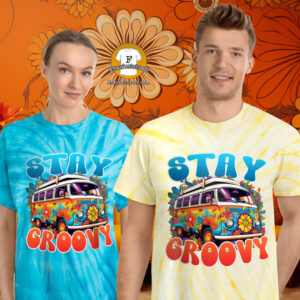 🌀 Spiral Into a Cyclone of Color & Comfort 🌀
The tie-dye cyclone pattern isn't just a visual feast, it's a throwback to the 60's – a psychedelic swirl of color that'll ensnare eyes and revive memories of sunlit festivals and moonlit concerts. Coupled with a classic fit and soft, medium fabric, it's a true fusion of comfort and style.
🛠️ Built for Durability, Stitched for Style 🛠️
Featuring shoulder-to-shoulder taping, this tee not only ensures extra durability at stress points but also adheres to an authentic 70's aesthetic. The double-needle stitched neckline and bottom hem enhance overall resilience, making this tee as enduring as the era it embodies.
🌈 Uniquely You 🌈
Every tee comes with a gentle disclaimer of slight color variations due to the dyeing process, making each piece uniquely yours. It's not just a shirt; it's a one-of-a-kind artifact, ready to wrap you in a warm, cottony embrace.
🚐 An Adventure Awaits 🚐
Whether you're headed to a concert, festival, or simply cruising through life, this tee is your passport to an adventure draped in the spirit of the 70's. Embark on a journey where every wear is a trip down memory lane, every gaze upon its hues a ticket to times past, and every compliment a nod to your impeccable taste. Stay groovy, live freely, and dress vibrantly with a t-shirt that's not just fashion, but a lifestyle, a memory, a statement, and a piece of history all rolled into a spectacular symphony of color and comfort.
🔥 Grab Yours Now & Keep the Spirit Alive! 🔥
| | S | M | L | XL | 2XL |
| --- | --- | --- | --- | --- | --- |
| Width, in | 17.99 | 20.00 | 21.97 | 23.98 | 25.98 |
| Length, in | 28.50 | 29.49 | 30.51 | 31.50 | 32.52 |
| Sleeve length, in | 7.24 | 7.76 | 8.23 | 8.74 | 9.25 |